A website is the best option to attract potential clients to your product. Email remains the best way to communicate with leads and clients.
Seems these two exist in different worlds and there's no connection between them. Yet, you can increase the website conversions with email outreach.
Understanding the Conversion, Conversion Rate, and Conversion Rate Optimization
Let's first discover what a conversion, conversion rate, and conversion rate optimization are.
A conversion is the change of a leads' status to a higher one.
Let's say, you have a website visitor who subscribes to your newsletter. This is a conversion. When a subscriber signs up for a free trial with your service, a conversion takes place. When a user buys from you for the first time, this is a conversion. When your paying customer upgrades their plan, this is a conversion. So every time a person changes their status to a higher one, it is called a conversion.
A conversion rate is the proportion of converted people to visitors. As a rule, analytical tools calculate the conversion rate automatically. Yet, if you want to do it yourself, here's the simplest formula:

The conversion rate varies across industries. Yet, the average conversion rate for B2B and B2C is 13.28% and 9.87% respectively.
Conversion rate optimization is a set of actions taken to improve the customer experience and push visitors to a conversion. You can do this through landing pages improvement, changes in design, updated email copies, etc.
Here are a few reasons why you need to work on your conversion rate optimization strategy:
What Customer Journey and Sales Funnel Are
These two terms can be sometimes used interchangeably. They represent a person's way from a stranger (aka visitor) to a regular customer. In fact, there's a slight difference between them. The customer journey is mostly used within the B2C niche, while sales funnel is common for B2B.
According to different sources, the journey, or funnel, can be 3 to 15 (!) stages. I prefer the medium one, with 5 stages: awareness, interest, consideration, decision, and purchase.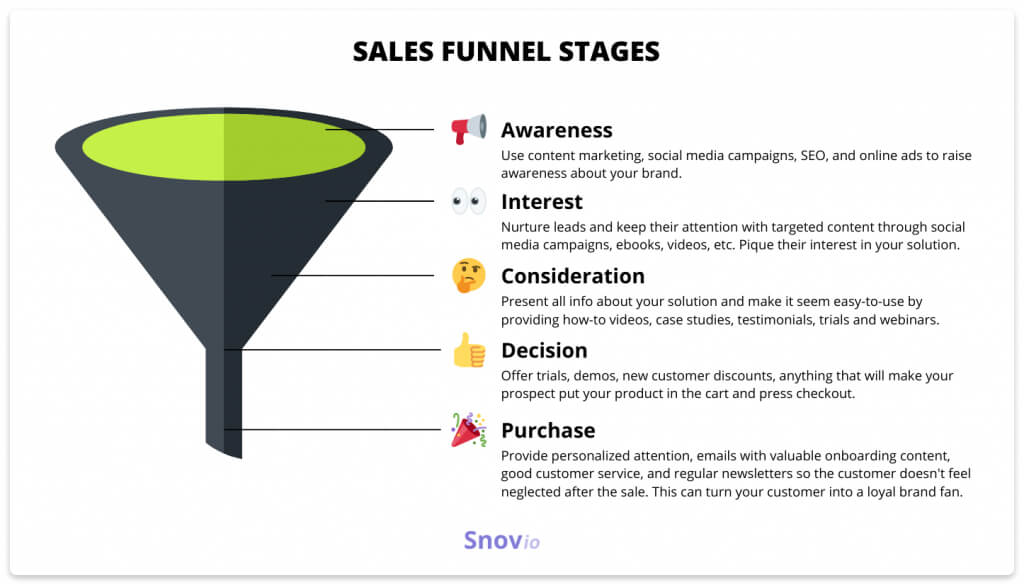 With the sales funnel understanding, it will be easier for you to analyze the performance at each stage of it. Thus, you can find out what needs improvement.
To convert leads like a pro, keep in mind a few basics:
Remember: people don't buy from companies after visiting their website once. To improve the website conversion rate and help leads go through the stages of the sales funnel, professionals do their best.
The easiest way to build relationships with leads fast is to interact with them through different channels. Combine emails, content, social media, calls, messengers to achieve goals.
Yet, thanks to emails, you can move a visitor through a sales funnel, onboard, nurture, improve their customer experience, re-engage, and so much more!
Do You Know Your Website's Hidden Growth Potential?
Take our conversion-driven web design test and see how much of your website is designed for growth and which parts make people leave your site forever.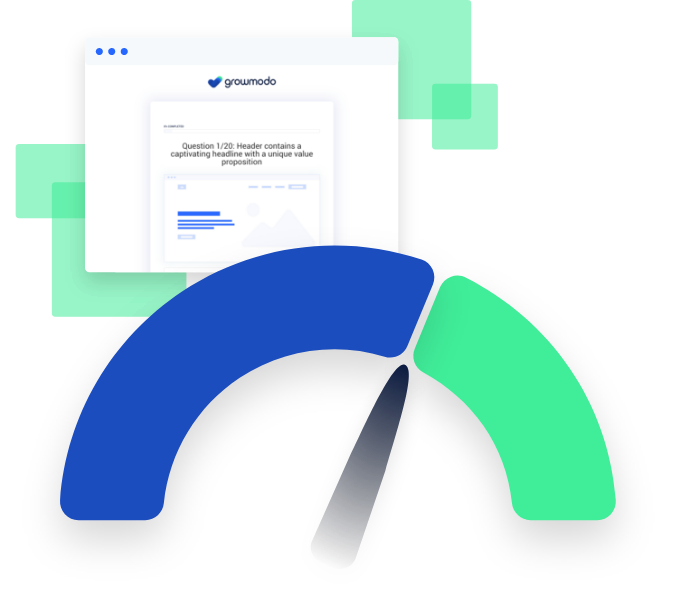 What You Need to Do Before Sending Emails
Sending emails right and left turn you into a spammer. This is why you need to know when it is ok to reach out to people and when it is not.
Here are three widespread cases when you can follow-up a person with an email outreach:
Visit but no action. With an analytical tool like Albacross or Leedfeeder, you can be aware of your website visits. What if a person gets interested but they need an extra push? An email will help you lead them where they want, to a conversion.
Question but no purchase. You may get a clarification question on your website from your visitors. Yet, even when they get a reply, they still do not buy from you. Email outreach will help you not only answer the questions but also move them to a conversion.
Subscription. Create lead magnets and share them in exchange for the leads' email addresses. A lead gets relevant information, you get their valuable email addresses to later reach out to. Fair? Yup.
Step 1. Get Email Addresses of Your Potential Clients
I have to repeat it once more. Email is the best option for outreach. This is a professional type of communication:
As the stats above show, email is really the best way of outreach. Let me show you where and how you can find emails of your potential clients.
Before you start working on your website conversions improvement, you need to generate leads and get their email addresses. I will mention the cheapest but the most effective ones to not spend your valuable time and money in vain. They are a subscription form, lead magnets, and email finders.
Note: depending on the business niche, you may need different sources of leads.
If you prefer social media, you need to know which ones suit your business. If your niche is B2B, then LinkedIn is the source #1 for you. For B2C, Facebook, Pinterest, and Snapchat are best.
What about Instagram, YouTube, and Twitter? They are versatile, you can use them for both B2B and B2C niches.
How to Find Email Addresses
I promised to talk about email finders. Here we go!
An email finder is an instrument that helps you get the contact details of your leads.
Imagine, you've found the necessary person on LinkedIn, but they are in the third connection with you. How can you reach out to them? You need to send a request, and in case the person accepts it, you will be able to write to them. Time-consuming and not reliable, isn't it?
This is when an email finder comes to rescue. Activate the email finder extension and add the email address to your list of contacts. Fast and simple, yeh?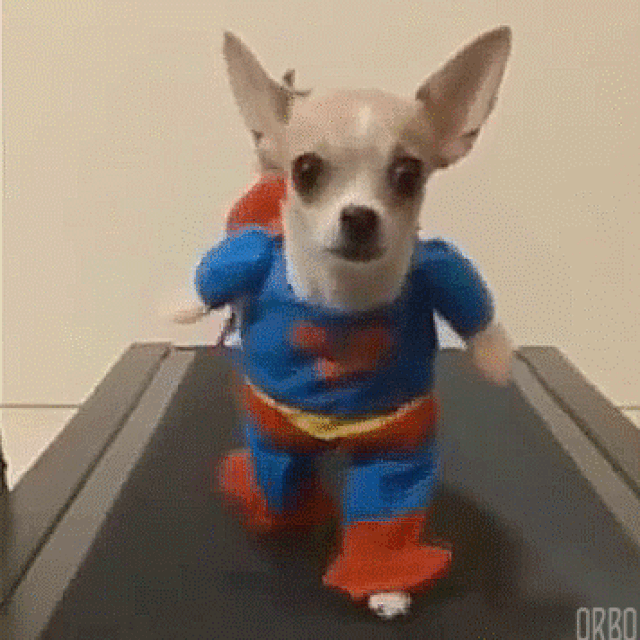 You can use email finders on any webpage. These are a corporate website, a person's or a company's profile on a social network, on a search engine results page.
The webspace is full of email finders and you can choose the one that fits your needs and budget. Depending on the tool you choose, you can get enriched and non-enriched leads.
When you have an enriched lead, you have only their email addresses and their names. An enriched lead is a lead with extra information, like company, position, location, etc.
No doubt, enriched leads are better as you can release a personalized approach. People appreciate it much more than a general one.
Step 2. Choose a Tool for Cold Email Outreach and Build an Email Campaign
To improve the website conversions with email outreach, you need to… Send emails, that's it!
There's hardly anyone sending emails to a bunch of leads manually. Professionals all over the world have already switched to marketing tools that automate their workflow. The most popular and used tools are email drip campaigns.
Drip emails are messages sent to people over a period of time in response to the recipients' behavior. These emails are used for cold outreach, user onboarding, lead nurturing, etc.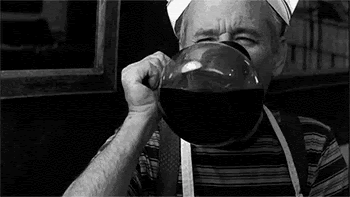 Want to know how email drip campaigns work and how to build an email sequence? Here's a comprehensive guide on how you can do this with Snov.io.
Step 1. Sign up with Snov.io, set your account, create a list of prospects, and verify it.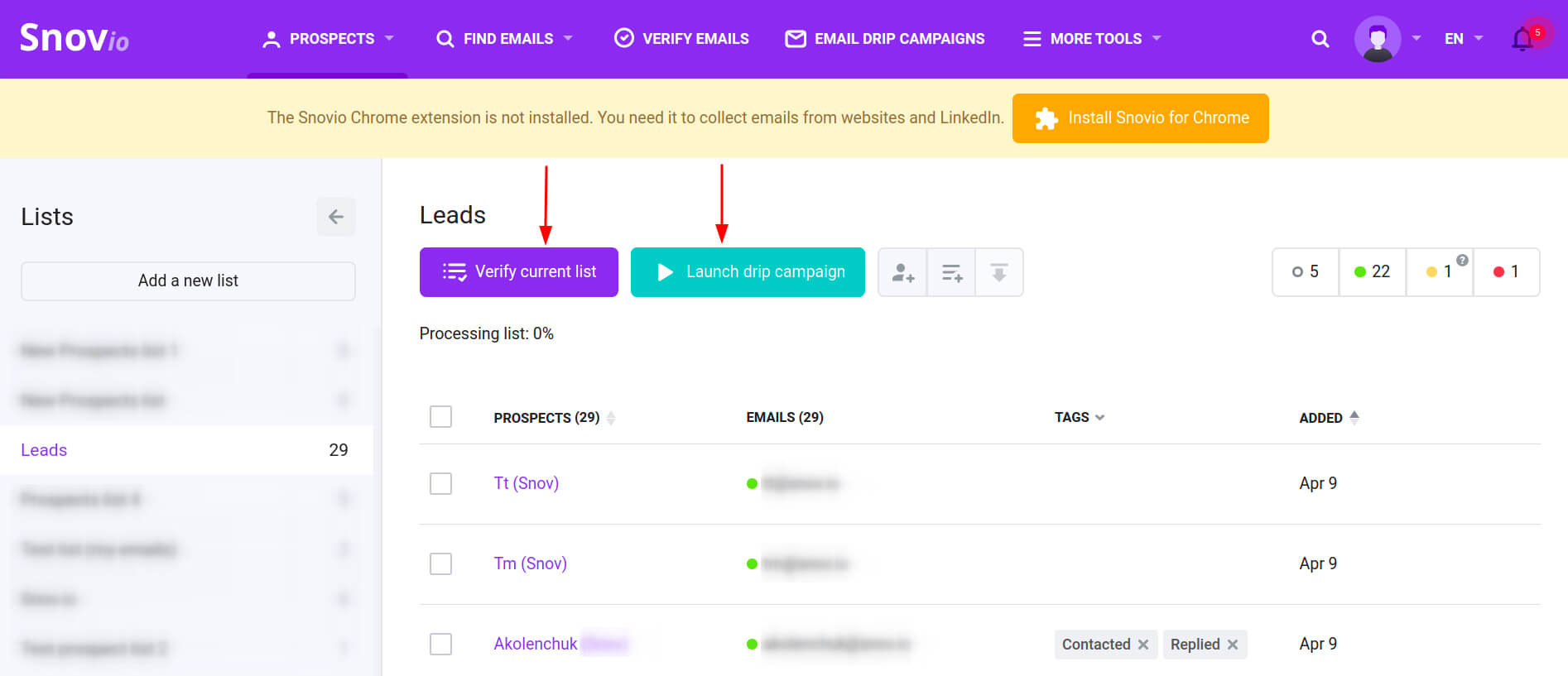 Step 2. Open the email drip campaign builder.
On the left in the campaign builder, name the campaign, choose the sender's email account, and fill in other options according to your preferences.
Step 3. Select the list of prospects in the Start element.
Step 4. Drag and drop elements to the field, connect them with a line to make the flow, compose emails, add your professional email signature. I'll stop on how to compose a converting email further on.
There are 4 elements in the campaign: email, trigger, delay, and goal.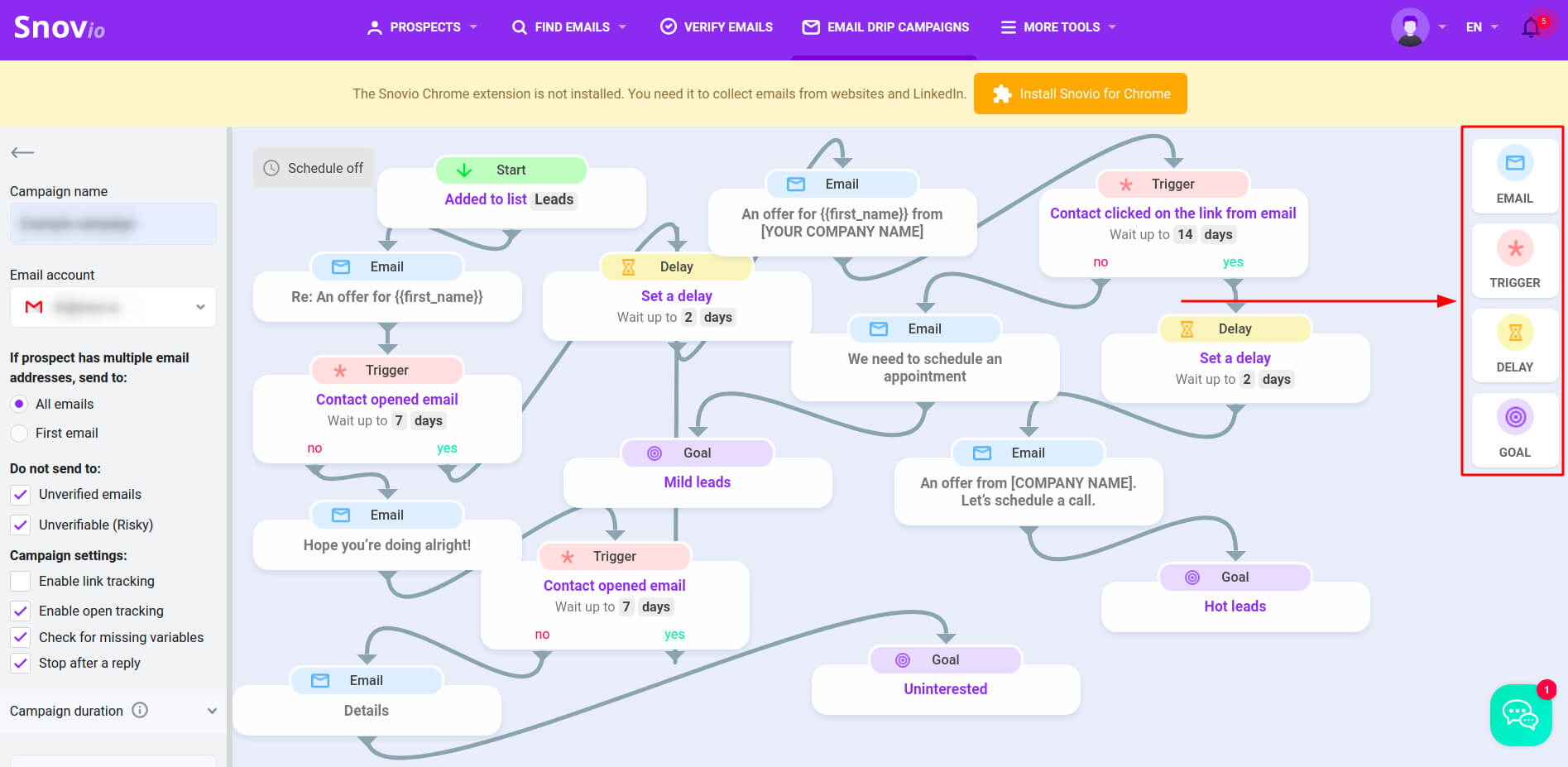 You can create plain-text emails or use HTML ones. Personalize emails with variables, attach files, insert links, format the text, use emojis, and take advantage of many other options!
The trigger and delay elements allow you to personalize your campaign. More of that, they help you protect your sender's reputation from bulk emails.
The goal element is the end of an email sequence. Name them accordingly to always know what step you need to take next.
If you want to see how the email looks like, send a test email to your address.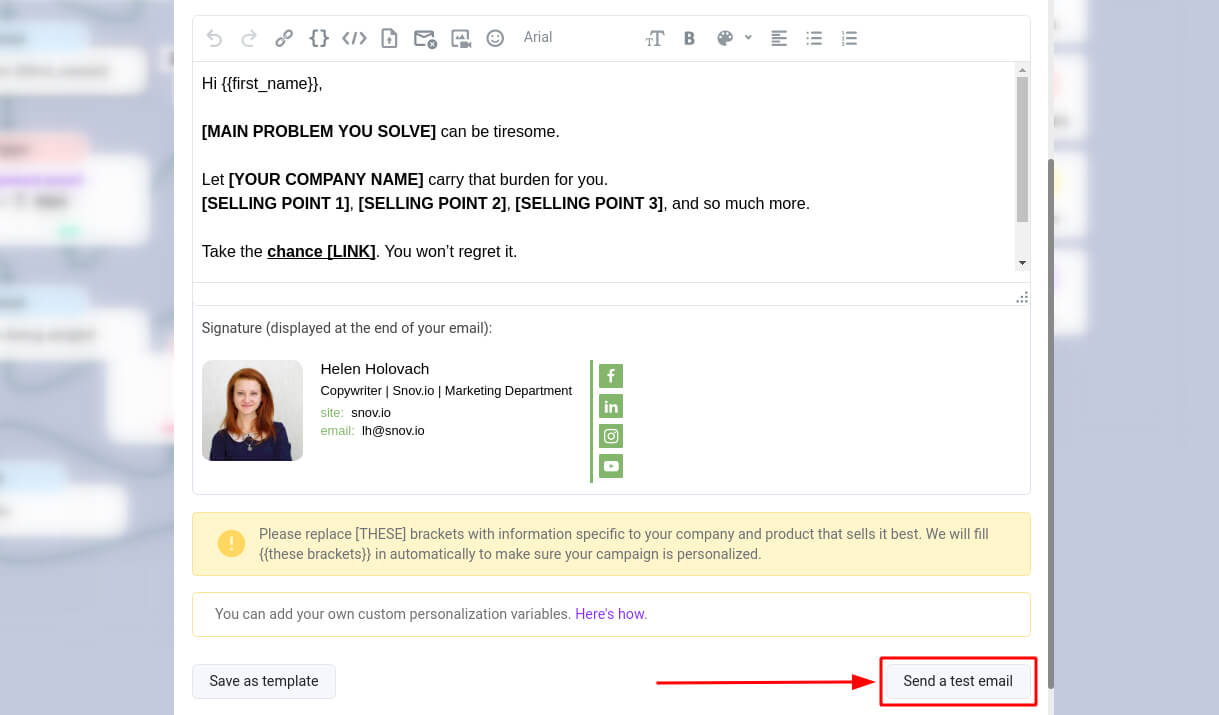 Tip: Split your large mailing lists into smaller ones.
This will help you not get lost in the abyss of the recipient's inbox or if your leads live in different time zones. There are no limits on the number of schedules you can create.
An email is a masterpiece, and it needs a separate detailed paragraph.
To write emails like a pro, make your email valuable, attractive, and convincing, you need to keep in mind many email copywriting tips.
Here's a checklist to help you compose the best message that boosts conversions.
Besides the list of must-haves, let me show you the things you'd better avoid in your email. Get sure your message has no:
How to Use an Email to Improve the Website Conversion Rate
The core thing that will help you improve the website conversion rate is a link attached to an email.
Keep in mind a few points when sending links:
You can send a link to…
… your website
The core tip that will help you increase the website conversions is to attach a link in the email to your website. Simple but working 🙂
… a testimonial page or customers' reviews
People do not trust what you say about yourself. They trust what others say about you.
Create a landing page with a good word about you. You can make even a few landing pages with testimonials and customers' reviews. Your leads and clients will gladly read what your satisfied clients say about you.
… your YouTube channel or video
Who doesn't love watching videos? You are perceiving information with your eyes and ears, and that's the best way to engage people.
Create a YouTube channel, share a link to it, or to a particular video in your emails, and watch your audience grow! Do not forget to call people to action: provide links to your website, offer them registering or download a freebie. Attract them to the fullest!
… an engaging About page
I love surfing the About pages. You can see the people you are going to collaborate with. They are so engaging and sometimes funny! Prove that you are a real team of professionals who meet any client's needs.
Do You Know Your Website's Hidden Growth Potential?
Take our conversion-driven web design test and see how much of your website is designed for growth and which parts make people leave your site forever.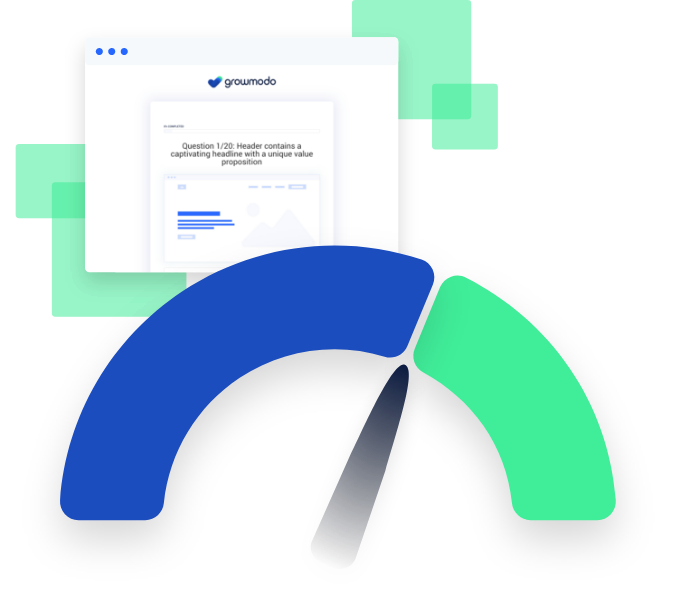 Time flies and new tactics appear here and there. Still, there are some that have been on the market for a while and have already conquered the hearts of professionals. I'm speaking about emails.
As the stats prove, email is not dead. It's alive and is worth your professional attention. If you want to increase your website conversions, it's super-easy with email outreach.
Sending emails is easy-to-implement with an email drip campaign tool, an automation instrument. Combine email outreach with your website improvements and may high conversion rate follow you!
Author's bio: Helen Holovach is a dedicated copywriter for Snov.io blog. She's passionate about email marketing, deep research, statistics, mobile games, and singing songs to a guitar.