In 2020, website design is not only essential, but it's also multi-faceted.  To succeed as a business, you need to pay attention to the kind of experience you're offering users once they arrive on your page.
Providing an excellent user experience is so important that
However, even though it's so important, only 55% of companies conduct any user research to use proven UX design principles.
This has to change.
Seem easy? Maybe, on the surface, but there's more to excellent user experience than only having a website that's nice to look at.
Follow along as we digest the most popular UX design principles and help you learn how to apply them in order to retain a visitor's attention and keep them coming back to your site for more.
Understanding the Basics of UX Design Principles
In the world of web design, there are a few spoken and unspoken principles that designers follow.
A good website designer will understand these principles and follow them in order to improve the user experience.
It helps to take a step back here, though, and look at the bigger picture.
The most basic website design principle is that design should always focus on user experience.
Do You Know Your Website's Hidden Growth Potential?
Take our conversion-driven web design test and see how much of your website is designed for growth and which parts make people leave your site forever.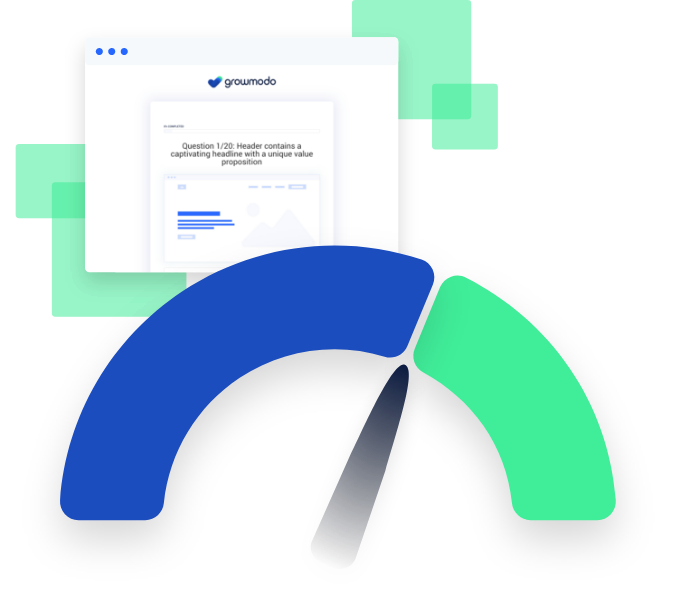 Why?
… Because your users are everything.
If a user arrives on your page and finds that your website is hard to navigate, doesn't load properly, or is too hard to read, then they're going to leave.
This might seem trivial, but it's crucial, as your visitors are forming instant opinions about your brand according to the experience they have on your website.
According to Amazon Web Services,
That's huge! That means you're losing out on potential customers, and it's unlikely that you'll ever regain their trust or viewership ever again.
Wasted website traffic is why UX is at the forefront of website design.
Now, it's essential to understand the specific UX design principles that make up high-quality web design. These include:
Meeting the user's needs
Having a clear hierarchy
Placing the importance of usability
Understanding accessibility
Encouraging flexibility
This isn't a comprehensive list of all of each UX design principle.
Each web design company is going to have their ideas as to what constitutes the best UX design.
There are clear winners, of course, according to current design trends and consumer feedback.
The UX design principles that are most relevant to your industry and audience might be different.
For now, we'll stick to the principles above as a basic guideline to help get you started.
UX Design Principle #1: Meet Your User's Needs
Want to learn how to reduce your bounce rate and increase your conversions?
Focus on user-first design.
Don't think about what you want out of your website; think about what your visitors want.
This mindset is a common mistake that some designers and companies often make.
To avoid making this mistake, it helps to ensure that you understand your target audience really well.
What do they want out of a website experience?
Then, once you've designed your website, you should perform A/B testing.
A circular web design approach helps you grow your website over time according to real feedback.
While this is part of lean web design, it applies to UX as well.
The design process allows you to see what your actual users like and don't like and cater to those preferences in a way that is continuously improving their experience.
It's also important to note that meeting your user's needs is also about providing them with the kind of information they're looking for.
While this has a lot to do with content, it also refers to design.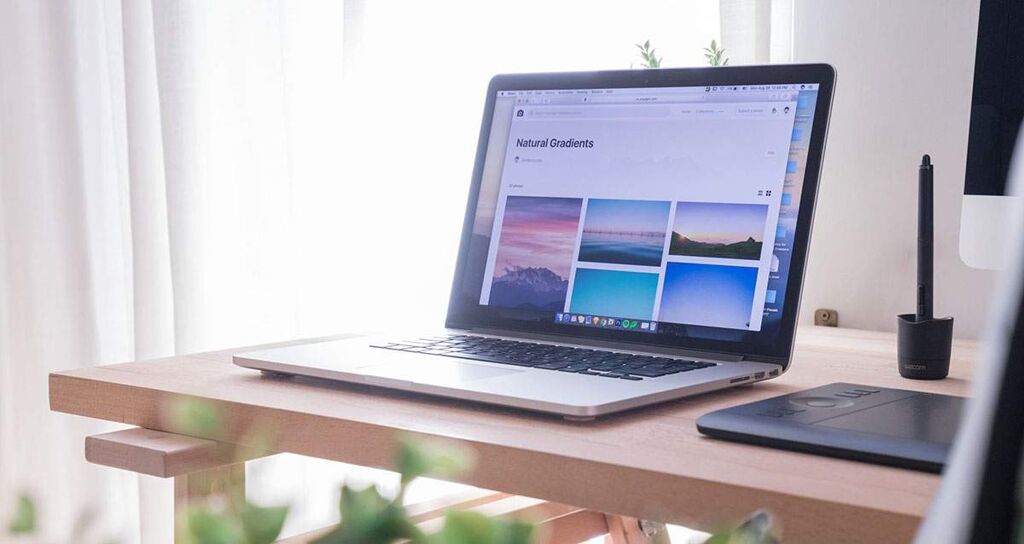 This means that if your users are looking for visual-rich content because the industry your business is in relies heavily on images, then make sure your website caters to that.
Graphics, layout, text, and images all work in synergy to create a solid user experience, so it's crucial to think about all of the factors when designing your website layout from the get-go.
UX Design Principle #2:Set Up a Website Hierarchy
Website hierarchy is incredibly essential when it comes to succeeding at SEO, which is something that most companies seem to understand.
What they don't seem to understand is that it plays an important role in website design and UX, too.
Setting up a hierarchy when it comes to your web design allows your users to navigate your site easily.
There are two main hierarchies when it comes to web design: Content and visual.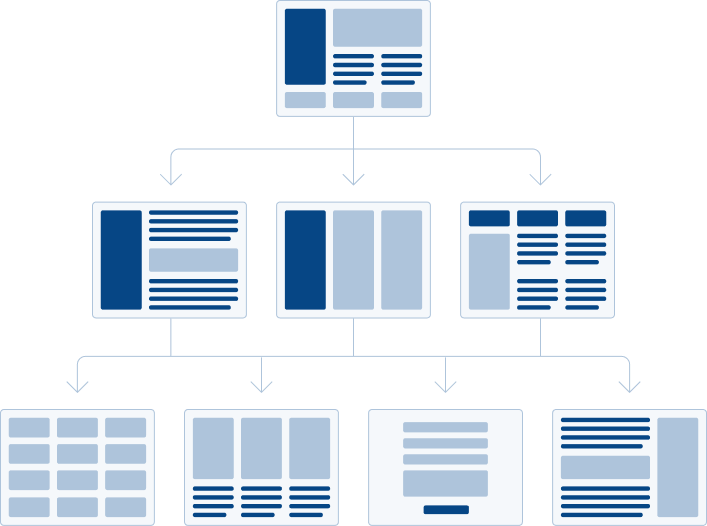 Content hierarchy refers to how you organize your content and the web pages themselves.
It's important that your menu is organized and that your entire site is easy for visitors to navigate.
Your site structure might vary, depending on your industry and page objectives.
Ecommerce sites should make sure that the main menu contains all of the primary categories and that the sub-menus are clearly organized in a way that makes it easy for someone to find whatever they're looking for.
What you're doing here is trying to avoid having a visitor reach your page and then bounce right back off because they can't find what they're looking for easily from your menu or after one or two clicks.
Then, you'll want to factor in the visual hierarchy.
Your Site Structure Matters for Lead Generation
Again, this does have a bit to do with content creation, but a good website designer will know how to adjust the layout of a web page in order to cater to your specific visual hierarchy.
Put the important content first, at the top of the page, for easy navigation.
If you want to generate more leads or signups for your SaaS product or services, you might want to consider having fewer options in your navigation bar.
The LeadPages website, for example, has most of its links in the footer and redirects its visitor on the top to the more crucial pages.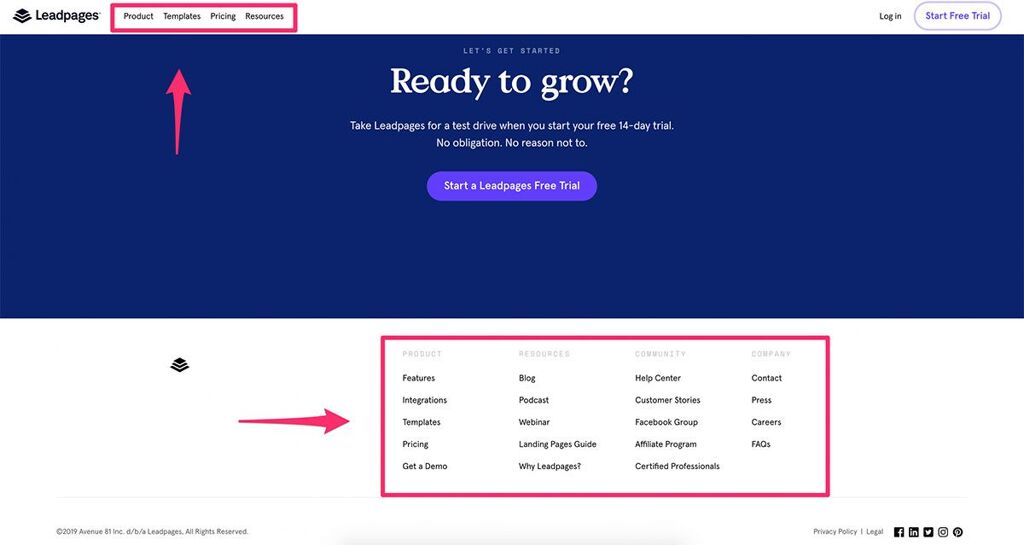 Not every website should be structured in the same way.
Ask yourself: What do I want to achieve with this page? How can I guide my visitor in the right direction, down the customer journey?
UX Design Principle #3: Focus on Usability
All of the attractive design elements in the world aren't going to help much if your users can't easily use your website and access its functions.
This means uncluttering your website and structuring it in a way that reduces any distraction or confusion.
The problem is that what we consider 'easy' or 'clear', might not be our user's opinion.
Therefore, if you genuinely want to build a customer-centric brand, you need to ask your users for feedback. 
Fortunately, there are many tools that can help you with that.  
UserTesting, for example, helps you conduct qualified user feedback to close the gap between what you think your customers want and what they truly want. 
If you want to increase your site's usability, you can start by minimizing content.
This is because a simple website design offers less friction.
People don't want to navigate through much to find what they want.
You should also focus on highlighting areas that help the user navigate more easily.
Concentrate on clarity and only include design elements that add to the ease of usability rather than make it more challenging to use.
When focusing on usability, it also helps to think about cognitive fluency.
Cognitive fluency is a principle that refers to the idea of having a layout where things are where people expect them to be.
Look at these two website examples. Which one is easier to navigate?
Website #1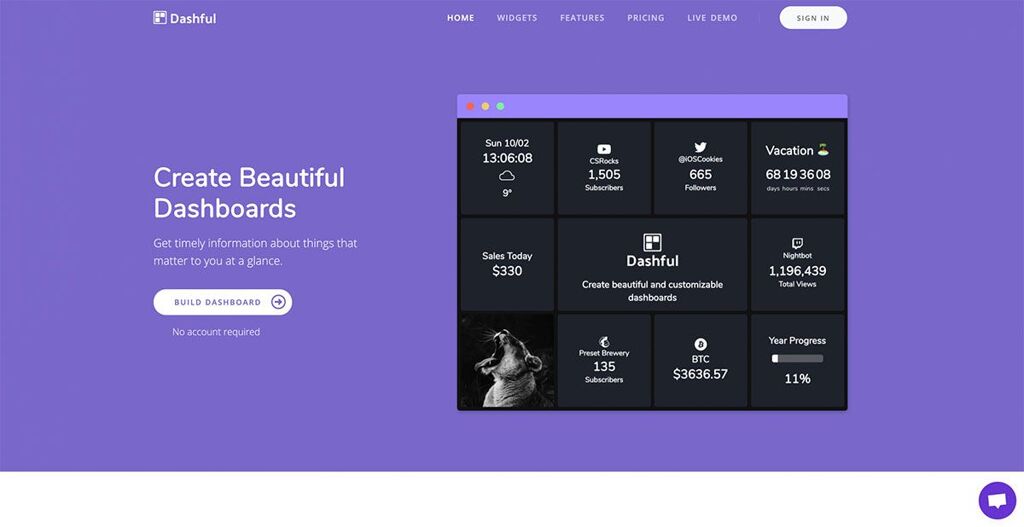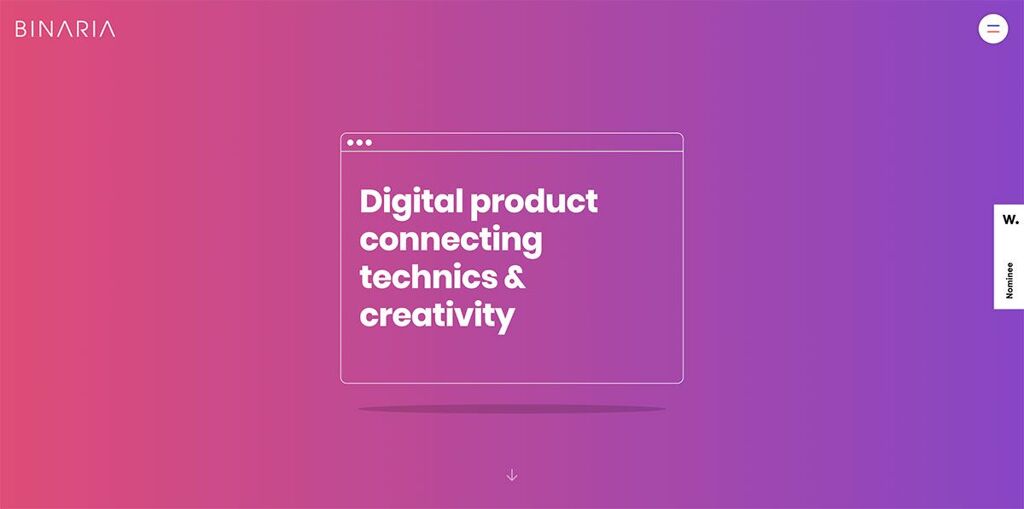 Well, the second website might be an award-winning website but it is much more likely that you leave the site straight away because you don't know where to go.
Don't get lost in trying to reinvent common design elements for the sake of creativity.
Yes, it's good to stand out, but you can do that by using common design elements that feel comfortable for the user.
UX Design Principle #4: The User's Context is Vital
Not everybody will use your website in the same way and with the same intention.
You need to take the customer journey into account.
For example, most people are not ready to buy from you after visiting your website once.
Instead, you want to make critical content easily accessible so they can make a qualified buying decision.
Otherwise, they can get easily lost and feel that your website is not relevant to them.
Also, do they visit your site on the phone to check your services on the go or are they sitting on their desks in the office?
Visiters from different traffic sources might look for different content and expect a different website experience.
Website personalization is already a big trend and tools like Unless and RightMessage make it relatively easy to give all of your visitors a unique view of your site.
Questions you need to ask yourself when designing your website with the user's context in mind:
Does each buyer persona need different information?
When do our visitors use the website mobile and when on a desktop?
How far are they in the buying process?
How can we communicate to them in context to their decision-making process
However, don't make it too complex either.
We always suggest seeing web design as a process and work with clients on an on-going basis, instead of as a one-off project.
That's why we offer a monthly web design service on a flat-rate, so we can learn over time how your visitors using your website and make continuous improvements.
UX Design Principle #5: Encourage Flexibility of Your Design
Now, you've probably heard of responsive design.
This is an aspect of flexibility, but it's important to focus on flexibility as a design principle rather than limiting yourself to just responsive design.
A responsive website design responds to changes in the width of the browser that a visitor is using (tablet, desktop, smartphone, etc.).
It rearranges the elements to fit the new width of the browser.
You can easily check your own website's responsiveness with this free Chrome extension.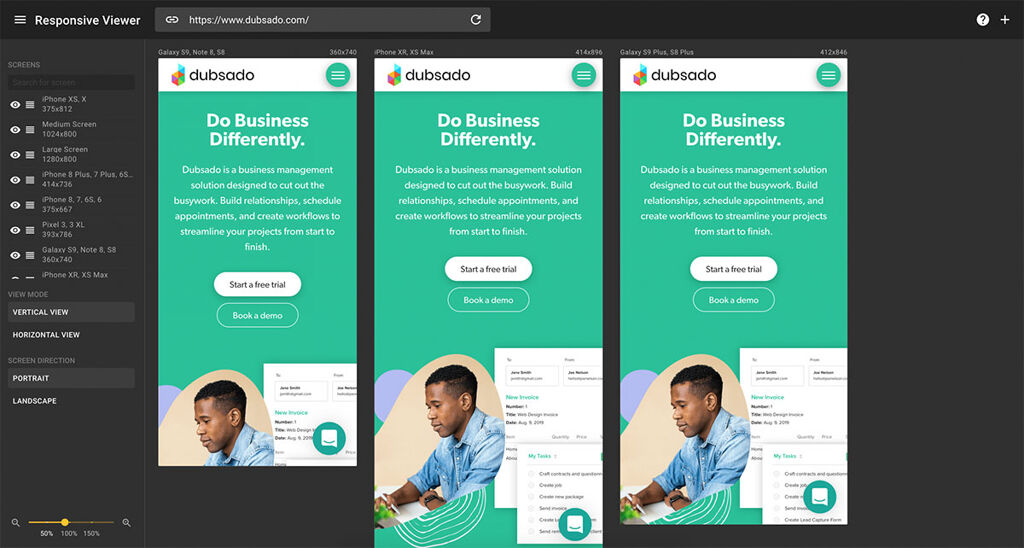 This is one key element of UX, as it ensures that when someone visits your site on a smartphone, for example, they can navigate it as easily as they can on any other device.
When it comes to user experience though, great design doesn't stop at simply being responsive.
Now, it should also be adaptive.
Adaptive website design has multiple fixed layouts. When it detects the browser, it automatically selects which layout to use accordingly.
It essentially offers tailor-made solutions, which in theory will provide the user with a better overall experience.
Depending on your website and the kinds of visitors you have, responsive design might work just as well for you.
The overall design principle here is to focus on flexibility.
Make sure your website is flexible in terms of adapting to fit different browsers and devices.
However, we will note that adaptive sites are nearly two to three times faster than responsive websites.
Based on this alone, you know that an adaptive design will increase your user experience as it loads that pages faster for your visitors.
Wrap Up: Using Web Design to Your Advantage
Learning how to apply UX design principles correctly can make or break your website.
It helps to focus on always being contextual, discoverable, and efficient.
If you're able to keep this at the forefront of your web design process while also implementing a user-first design, then you'll see greater levels of success with your website when it comes to conversions.
Nevertheless, we get that this can be a little overwhelming.
The UX design principles covered in this article are constantly changing, paving the way for new principles and trends to take the main stage.
If you find it hard to keep up with the trends, then it helps to have a professional team of designers on your side.
We provide web design services for B2B companies looking to increase their user experience and increase overall visitor satisfaction.
Interested in getting started? Book a quick 15-minute strategy meeting to chat about your needs, issues, and questions.
Do You Know Your Website's Hidden Growth Potential?
Take our conversion-driven web design test and see how much of your website is designed for growth and which parts make people leave your site forever.