The internet is full of website personalization examples. 
Why?
Because they work. 
Creating personalized website experiences is a huge trend in web design.
Personalization can boost your conversion rate tenfold.
In this article, we point some examples and tips to improve your B2B web design experience without a complete redesign.
How to Boost Conversions with These Website Personalization Examples
A beautiful website is not enough.
You might think a website builder like Squarespace or Wix is all you need to grow your business online.
Nothing can be further from the truth.
In fact, you could kill organic rankings by making your site too pretty and content-heavy.
Background videos and huge images will slow loading times and send bounce rates sky-high.
Performing a complete website redesign is an undertaking.
Doing it because you think your competition's site is prettier or you're bored with your site is not a good idea.
You need to focus on using your current site to boost conversions and make web design updates a regular practice.
Do You Know Your Website's Hidden Growth Potential?
Take our conversion-driven web design test and see how much of your website is designed for growth and which parts make people leave your site forever.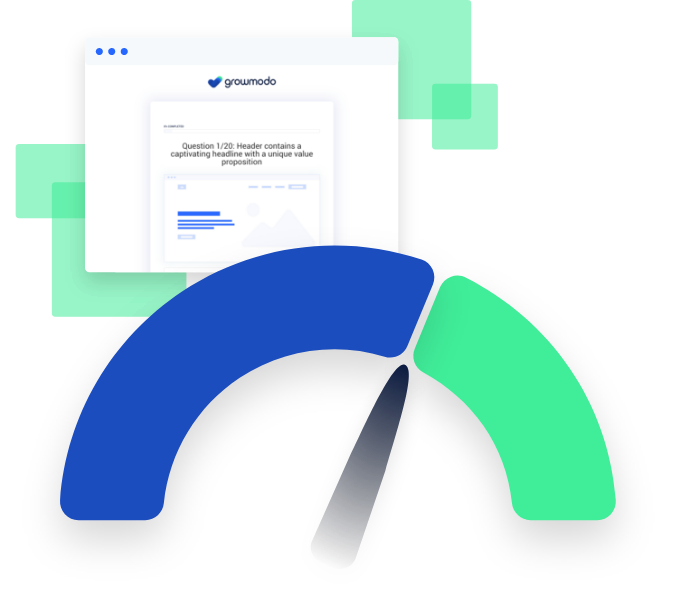 Rather than focusing only on your website design, focus on boosting your website's conversions with site personalizations.
What does that mean?
You need to craft quality content and then have it change to suit every user that visits your site.
Sounds like science fiction right?
Well, it's the biggest trend on the web today.
It's the secret "it" factor your competition is using right now.
These website personalization examples will give your business an edge on conversions. ,
It allows you to create happy customers from the first interaction.
So, how do you do it?
How do you make every interaction with your site more intimate?
How do you instill trust and personalized service in every user?
We will walk you through our favorite website, personalization examples below.
So, What's Website Personalization Anyway?
Website personalization has nothing to do with the layout of your site.
It might be having multiple landing pages for each of your target groups and advertising to them with the specific offering.
However, in this article, we talk about the website personalization examples that are created automatically. 
These personalizations occur on the backend before the site loads.
Your site compiles the IP and device information of the user clicking in and then re-directs to the correct information for that user.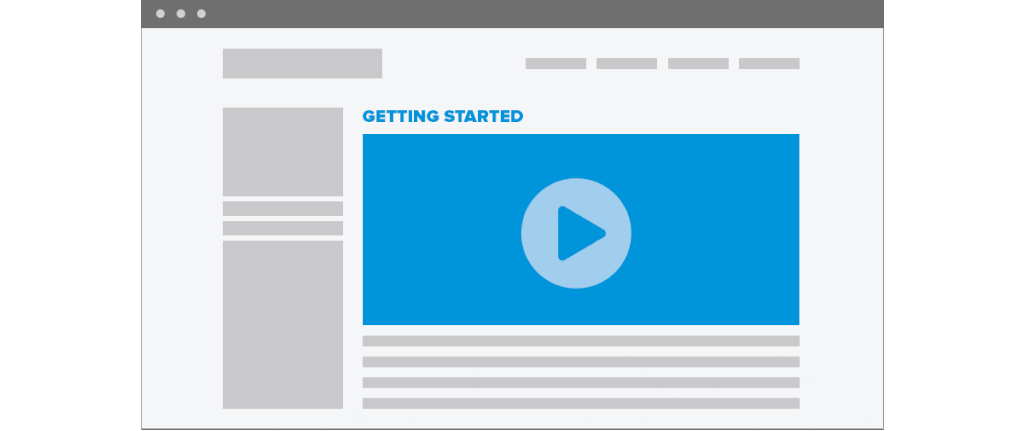 Personalized content isn't anything new.
When you run Facebook Ads, you do nothing else.
You try to match your offering and ad creative exactly with the audience you advertise to.
If you can get their attention and evoke interest to learn more, they will click on your ad.
Once someone takes action and visits your website, the experience is very often much more generic.
Every visitor sees the same content and decides within seconds if it's worth it to stick around.
Fortunately, technology makes it easier and more affordable than ever to create a personalized website experience from the first click to the checkout.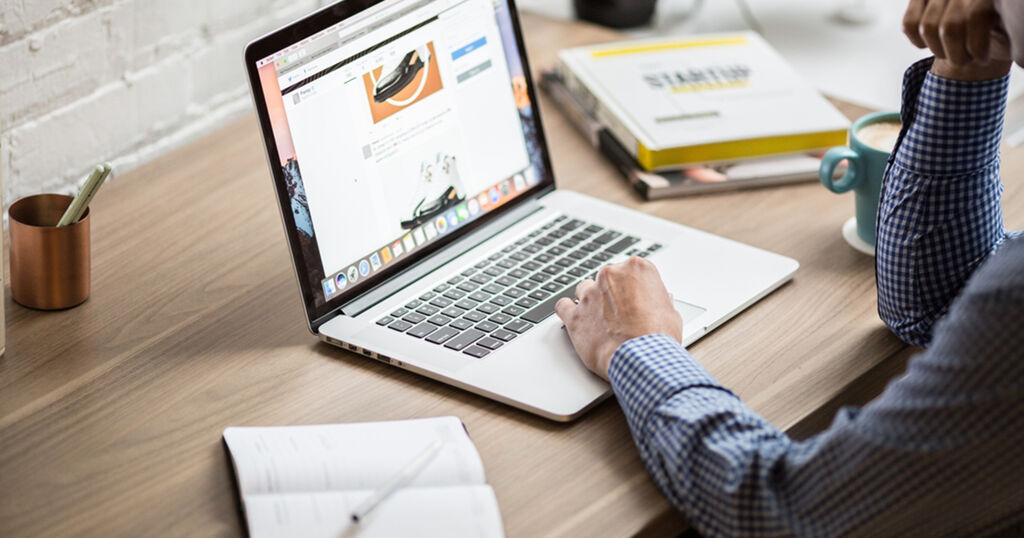 How that works?
Every time we browse the internet, we leave our footprints.
Websites can pick up on that data and use this to change what we see when we visit them.
The results, websites become much more dynamic.
Companies that use these website personalization tactics don't have 'one' website anymore.
Almost every visitor sees a different page.
Depending on:
Traffic source
Device
Location
Previous website activity
Daytime
And other criteria
But before you scratch your head and wonder how the heck they can do this.
It's not that complicated.
Let us walk you through the types of content elements you can personalize on your website.
7 Highly-Effective Website Personalization Examples
Here's where we get to the examples.
You can make tons of different personalizations to the content of your site.
These are a few of our favorites for B2B businesses.
They can boost your conversions and will keep your content relevant to every user who lands on your site.
1. Automatically Update Website Content Based on Your User's IP Address
Do you struggle to find customers online because your prospects prefer their local providers?
Imagine you could change the content of your B2B website based on the end user's geo-targeted location.
By where the traffic came from (social, direct, referral, etc.).
Also, target based on which device the user is accessing your website.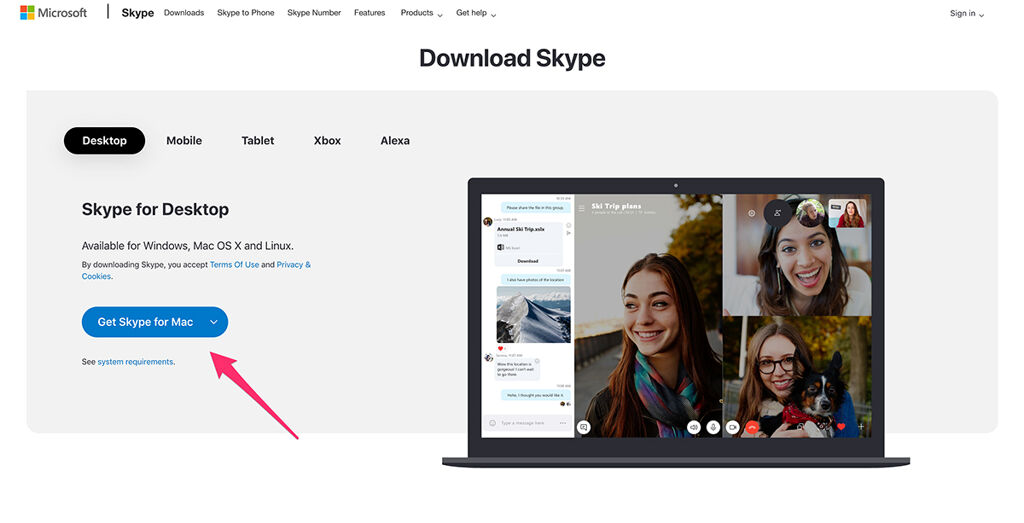 Skype, for example, recognizes if you visit from a PC or Mac and displays the right download button.
Completing these customizations can massively improve the user experience.
You can use a website personalization tool like Unless that allows you to make these changes automatically.
You can use Growmodo's website management service if you need help with the setup.
You don't need a coding background, let our developers do it for you.
2. Personalized Call-to-Actions Give Users What They Want and Boost Click-Through-Rates
Setting up a personalized CTA doesn't require you to be a web designer.
This is about tailoring the call-to-action to fit the person you want on that page or an online form.
Personalized CTAs are "Smart CTAs." They change according to the factors you've set up on the site.
For instance, you have a CTA that brings everyone to set up a free strategy call.
But, what if the person who is looking at the page has already had a strategy call?
This user needs a different CTA. So, you set up a personalization if/then sequence.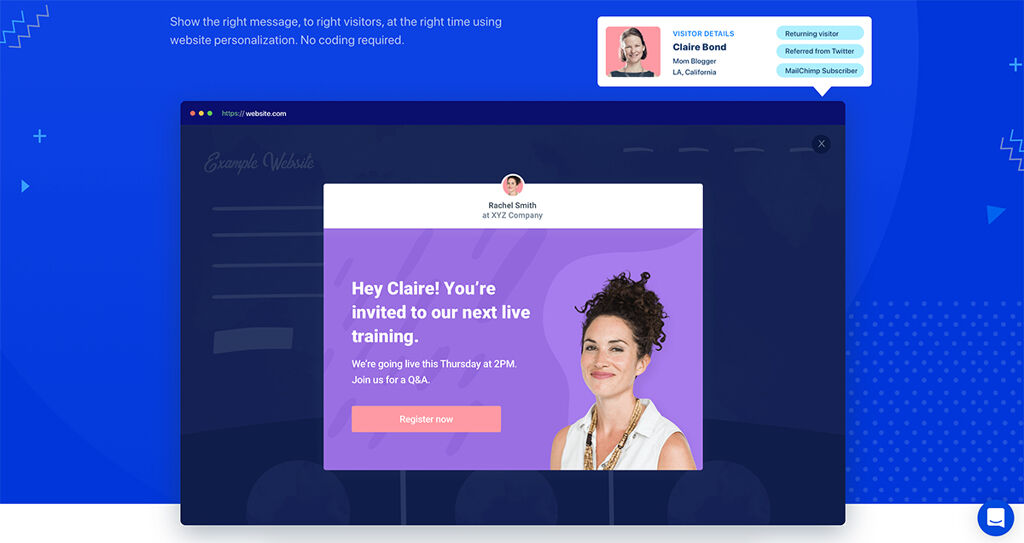 Convertflow is a great tool that lets you create these personalized call-to-actions.
If user A has already had a strategy call/filled out the strategy call form then use the Products and Services CTA.
Instead of telling them to book a strategy call, this user will see a CTA encouraging the purchase of a service or product.
This is one of the easiest website personalization examples to implement. 
And you probably have already seen this all over the internet. 
You can show your users information on people in their area who also bought your products.
This is a social proof notification.
Say you're selling courses on boosting website conversions.
When you fall on that landing page, the page interprets your IP address.
Then, based on your location it begins giving you small popups.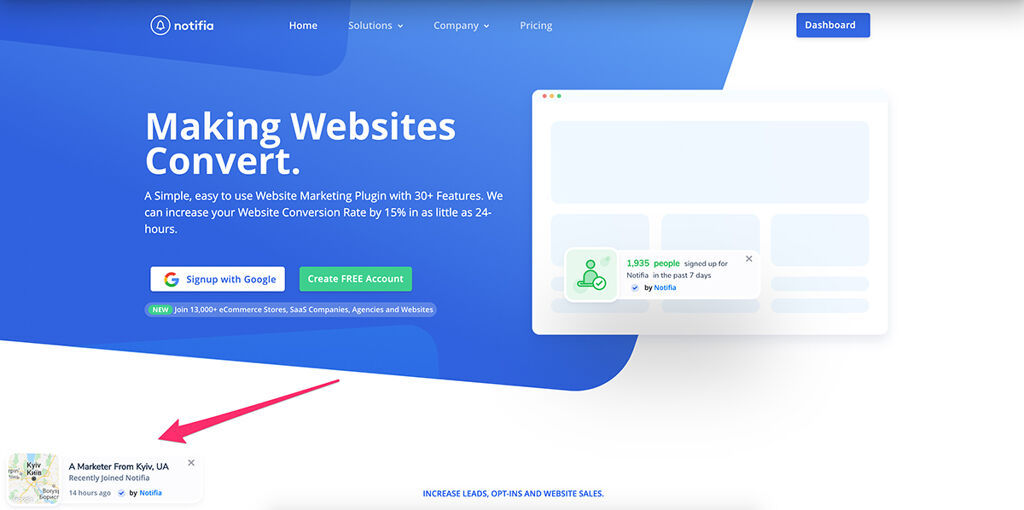 So if you're in Sydney, the popups will read something like:
Cindy in Bondi Beach purchased the Expert Package.
Raymond from Bankstown just booked a Demo.
In each example, it gives the user's location.
This gives you the awful feeling of FOMO or the fear of missing out.
What will your competition learn that you won't?
How will it look when you can't talk about your experience at the next networking event?
Can you afford to be behind the curve?
By plugging into these social anxieties, you boost sales.
The likelihood of your user clicking "Buy Now" rises.
4. Gather Data About Companies That Visit Your Site
The only way to personalize your website is to have access to as much user data as possible.
But, you can't do all that research on your own.
Using data mining tools does all the hard work for you.
A tool like Albacross gathers information on your customers from all over the web.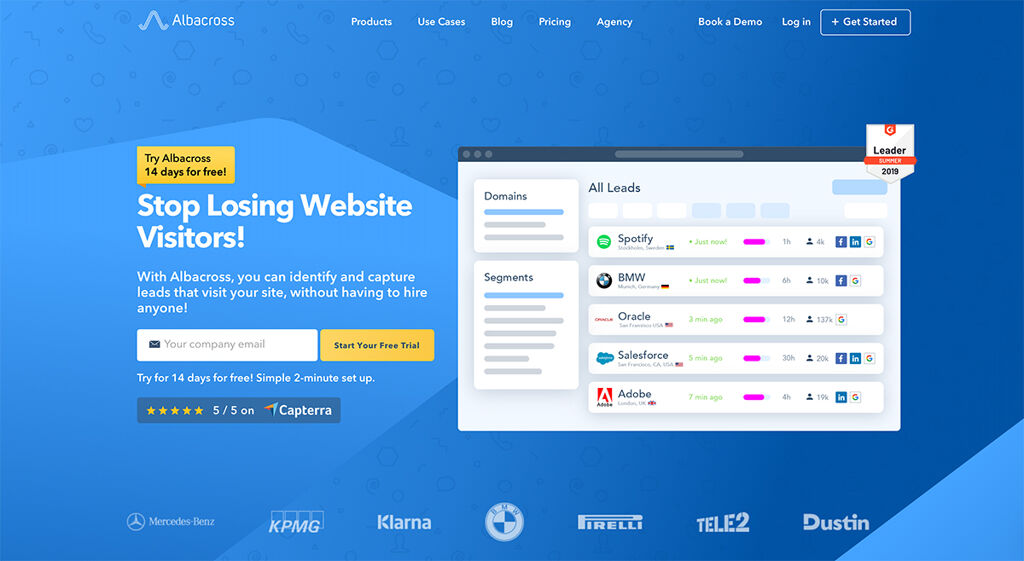 Once you've compiled this data you can write more effective CTAs.
It lets you craft more content that is relatable to your audience. It gives you more information that your users want instead of guessing in the dark.
Besides using this data for website content you can also craft personalized emails.
Use This Data to Craft Personalized Cold Emails
No, using the contacts first name in a cold email is not enough anymore to get someone's attention.
You can outreach tools like Lemlist to give your cold emails a warm touch.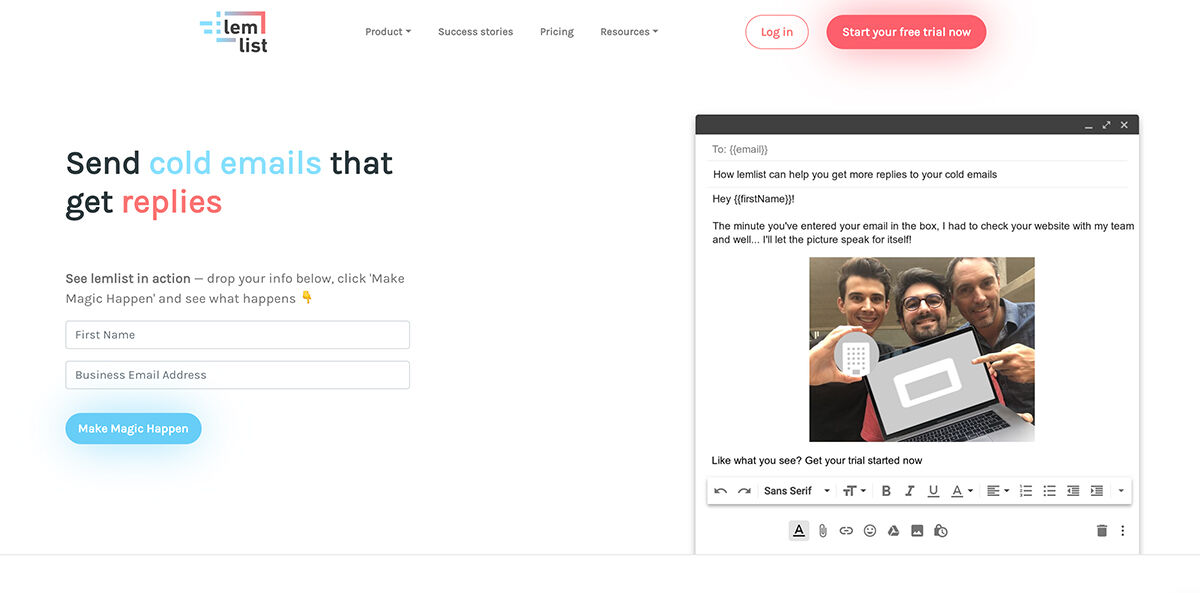 Lemlist allows you to add personalized images and videos to your email copy.
But you don't need to stop here.
You can mention the content that the person visited on your website and give her additional information.
Also…
Find similarities between you and the recipient. Did you both go to the same college? Are you both from the same hometown?
Building familiarity boosts confidence in the sender and reply rates.
Everyone will feel more comfortable doing business with you. You know their pain points. You understand who they are.
This is not an example of how to personalize your website, but it is part of the overall user experience that doesn't stop once someone leaves your site.
5. Boost Effectiveness of Your Marketing Funnels by Using Personalized Text on Your Landing Pages
Many people still feel more comfortable to do business with a company in their area.
Converting those visitors is, therefore, easier with personalized landing pages.
Say you're targeting users looking for Office Cleaning Service in Austin.
Each landing page looks a little different for Austin, London, New York, etc.
Tools like PageSense by Zoho allow you to do this effortlessly.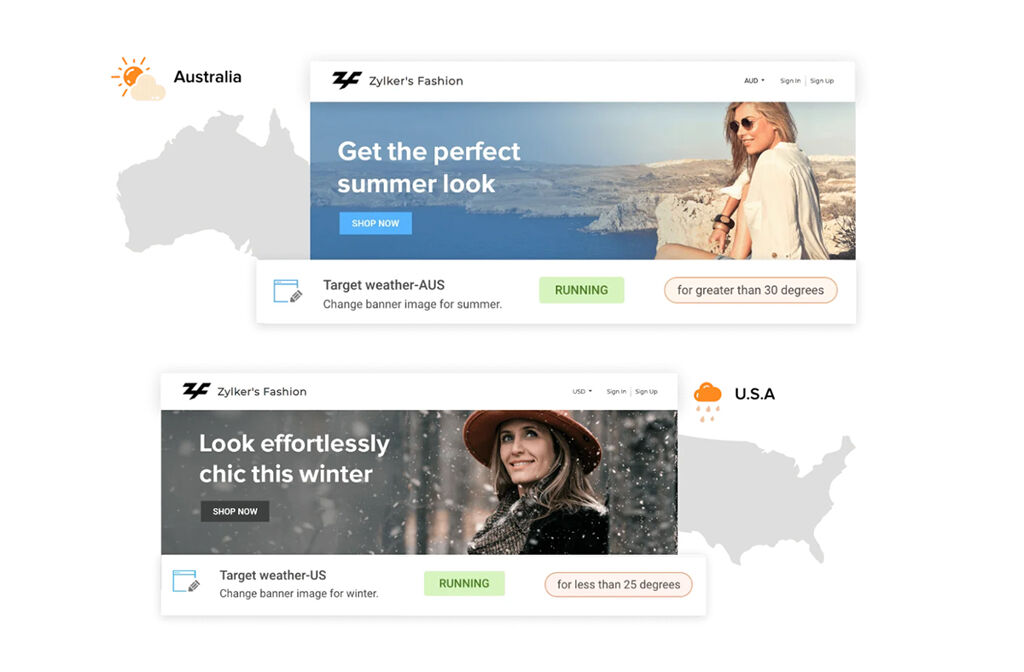 Like the popups we spoke about earlier, the actual content of your landing page changes.
It's different depending on user location. If the user is searching for Sydney web design the landing page might mention the Sydney Opera House.
It might mention other local highlights, as well.
If it's a time-sensitive offer you could mention a recent sporting event.
So, this way, the entire product looks like it's created for this user. That your company understands the area they live in.
They pick you because you're one of them and can convert their customers with ease.
6. Send Visitors Personalized Chat Notifications
You have experienced chatbots.
You go on a website and the little window in the corner pops up after you've been on the page for a bit.
It says "Hi, I'm Robert, is there anything I can help you with?"
That's all well and good but everyone has them now.
What used to seem like of the minute personalized service now seems commonplace.
Do You Know Your Website's Hidden Growth Potential?
Take our conversion-driven web design test and see how much of your website is designed for growth and which parts make people leave your site forever.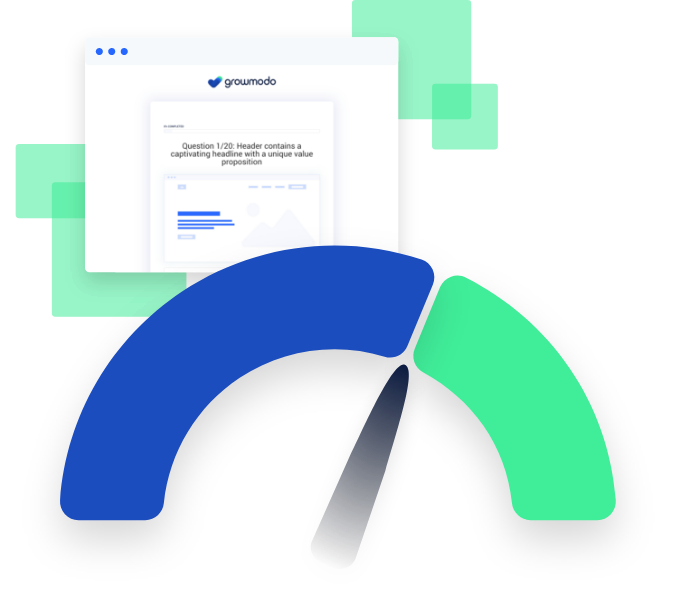 This example shows a whole new level of understanding.
The chat tool knows your name; it identifies the page you've been on and that you are a returned visitor. 
Likely, you are already more interested than the average visitor.
Therefore, it is beneficial to start the conversation at this point.
This is the power of personalization.
Now it feels like you are being spoken to as an individual, and it makes you pay attention.
7. Make Your Website Multilingual
Well, what if your user is searching from Germany, France, or Thailand?
Shouldn't they have the information about your business too? If you have a global company, you need universal access.
Your website content can't be only English. It needs multilingual functionality.
For websites that run on WordPress, you can use Weglot. A WP translation plugin that translates your site in just minutes.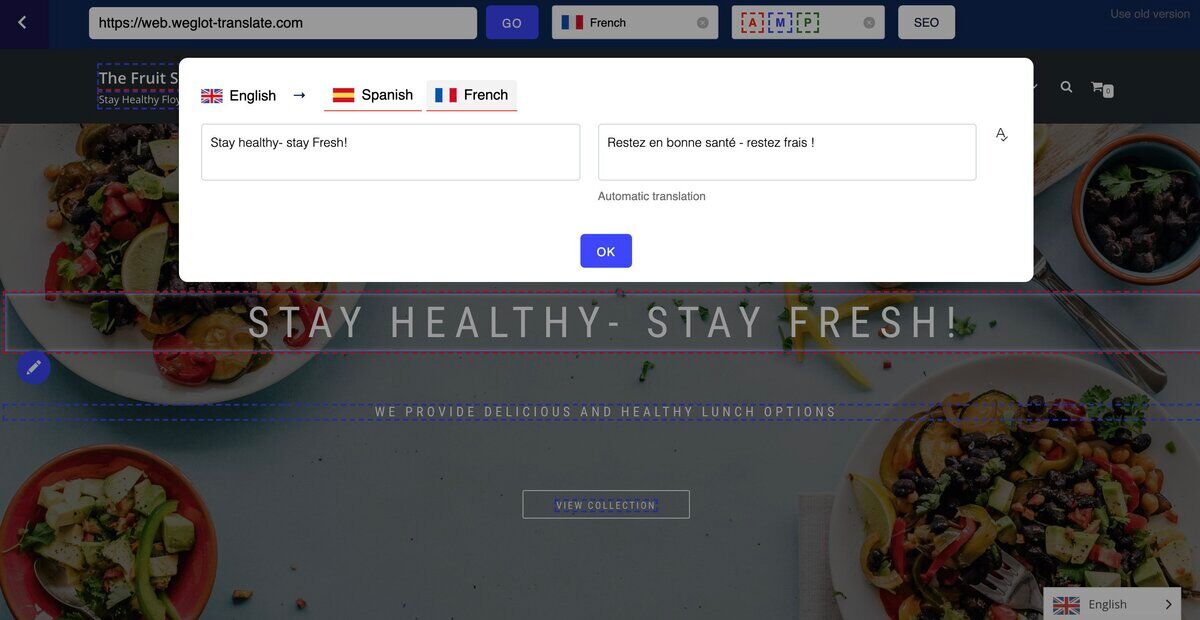 This plugin automatically detects, translates and then displays the content of your WordPress website under SEO friendly language subdirectories.
With a front-end language switcher added to your site, your new website visitors can easily select their language of choice.
It gives the user immediately the feeling that you are a local or at least a domestic company and builds more trust.
This is the beauty of website personalization.
It makes the customer feel appreciated and catered to.
Why These Website Personalization Examples Can Be a Game Changer for Your Business
Are you giving your users the best experience possible?
Are you missing conversion opportunities by not speaking individually to your audience?
Remember, we live in a time where the customer wants to believe they matter and provide a personalized experience.
Through website personalization, you can set the tone.
A tone of valuing your client from the first click.
If you need help developing strategies and ideas to personalize your website experience, feel free to book a free web design strategy call.
If you like the article, please share it with your network.